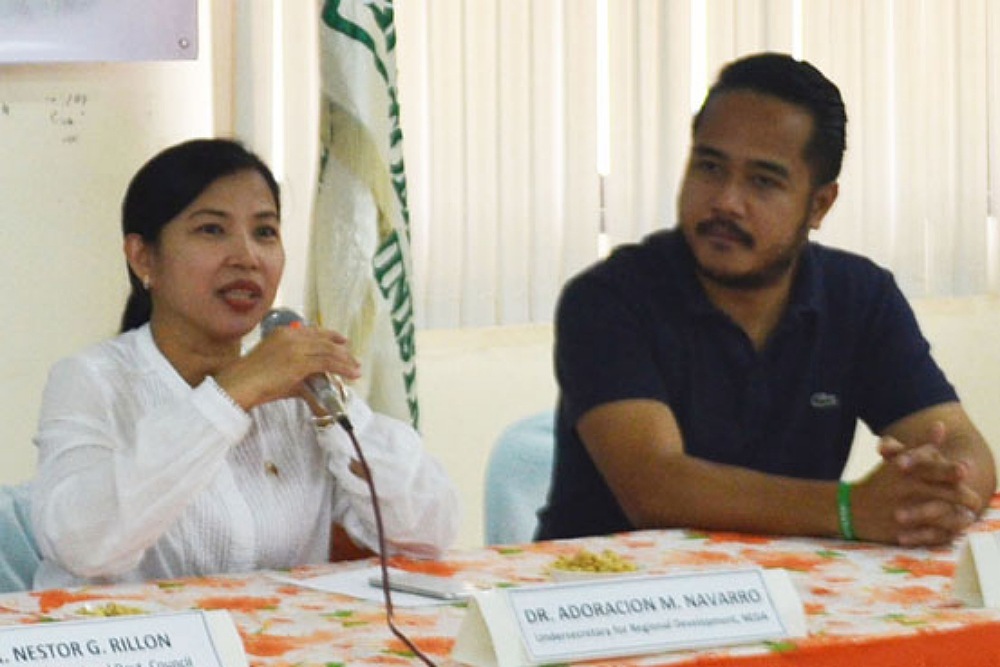 Usec Navarro with Atty. Verzosa
National Tobacco Administration recently issued the following announcement.
NATIONAL Economic and Development Authority (NEDA) Under-secretary for Regional Development Adoracion M. Navarro urged NTA to find other alternative uses of tobacco, especially for large-scale or commercial production, as a part of the government efforts to boost the tobacco industry.
Navarro made the call during her visit to the NTA Candon Office on May 28 to discuss NEDA's regional development thrusts and growth targets with NTA Deputy Administrator Atty. Mel John I. Verzosa and other agency officials.
Navarro also acknowledged the role of the tobacco industry in generating billions of taxes, providing big income to thousands of farmers, and employing people, as she dispelled the notion that the tobacco industry is a sunset industry.
She said that "sunset" refers only to one component of the tobacco industry, and that is the use of tobacco for smoking.
She proposed instead the term "emerging industry" for the tobacco industry, particularly on the alternative uses of tobacco for large-scale or commercial production.
"Part of the strategy are industry linkages, particularly the academe, and research grants for researchers from the state universities and colleges," she said.
According to Imelda N. Riñen, manager of the Farm Technology and Services Department, NTA has been conducting numerous studies on the alternative uses of tobacco, and some of them have been tested for possible commercial production, such as tobacco handmade paper, tobacco ethanol, tobacco extracts for pest control, and tobacco dust as an organic molluscicide.
Navarro also challenged the agency to come up with pipeline projects and investment programs using the Tobacco Fund (under Republic Act 4155), for the benefit of the tobacco farmers and their communities.
With USec Navarro during the meeting were officials from NEDA Region 1 headed by Regional Director Nestor G. Rillon.
Corporate Planning Manager Fortuna C. Benosa presented to the NEDA officials the accomplishments of the agency in the past five years, potentials and challenges, plans for the agency, and a brief discussion on the proposed Tobacco Industry Roadmap.
"We appreciate so much that NEDA is meeting us as this is an opportunity for NTA to highlight the role of the tobacco industry in the development of Region 1," Atty. Verzosa said in a message.
Also present during the meeting were Branch Managers Esmeralda G. Valera (Abra), Estrella G. De Peralta (Candon), Minerva P. Mizal (Vigan), Mario E. Corpuz (Ilocos Norte), Engr. Cesario G. Sambrana (Pangasinan), and La Union Branch Chief Agriculturist Emma Beth Fantastico. (Neyo E. Valdez)
Original source can be found here.